ToulouseGuidedWalks offers many walking tours and visits of the city of Toulouse. The walks are all interesting, insightful and fun. TGW gives you a chance to discover the wonders, glories and secrets of the beautiful red brick city of Toulouse.
The Classic Tour (our most popular one) takes you to see our most famous monuments and allows you to discover why the St Sernin church, the Jacobins monastery, the fabulous Renaissance bridge, the Pont Neuf, and the medieval Renaissance mansions are so famous.
But ToulouseGuidedWalks also offers you a wide choice of other subjects and themes for your visit.
From Roman times to the Resistance during WW II; from the history of its gardens to the fabulous story of the Garonne River, you have pick from any one of the Walks to learn more about Toulouse. They are all fascinating and different.
There are a few out of town tours in the region which are available on demand.  Check out these podcasts for some ideas.  Contact TGW and tell us what you would like to see.
Whether you are interested in history, architecture, design, food and drink, or just old buildings and atmosphere, ToulouseGuidedWalks offers a tour for you!
Whether you are just passing through Toulouse, or are here for a longer time; whether a first time visitor or a return traveler, you can find a walk or visit that suits you!
All of the walks are on demand, for small intimate groups. You have just to choose one, and contact Elyse to schedule your visit.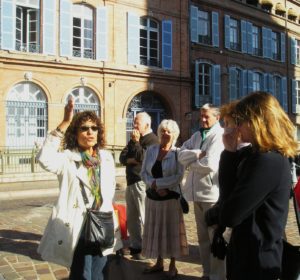 "I have taken many walks with Elyse and each one is more fascinating and agreable than the last. Her enthousiasm and knowledge are without equals. It is a marvelous way to discover the beauty of this city"

— Arabella
"What is different about her tours is that she manages to draw her listeners into the lives of the people who lived and worked in the Middle Ages and over the centuries since then"

— F D