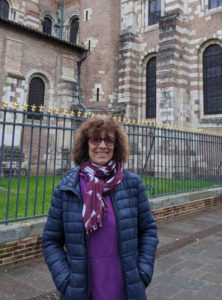 Hello and welcome! This is Elyse, your guide for ToulouseGuidedWalks.
I am an art historian, professor of art, and painter. I am also a licensed national French guide. American, I have lived in France, more specifically in Toulouse, for a long time and I have been guiding for over 20 years. Bilingual, my tours are mostly in English but can also be in French. Most of my tours are in Toulouse, but I also guide in major places of interest in the southwest of France, such as Carcassonne and Albi.
I have a passion for art, architecture and all things cultural; I also love food, wine and in general everything connected to the life and history of France. I bring to my tours great enthusiasm and a desire to share the beauty and the stories of my adopted home.
The tours bring history vividly to life, as I take you to the most well-known, as well as hidden, out of the way parts of the city.
Whether you are interested in art, history, architecture, food, society, general culture, or in just soaking up the atmosphere of an ancient city and appreciating the beautiful landscapes and vistas of southwestern France, I have the tour for you!
ToulouseGuidedWalks.com offers you a unique experience that you will remember a long time after you have journeyed home!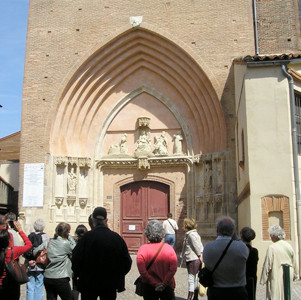 Guest Comments
Here is a sample of reviews that I have received from customers.  To see more or to leave one of your own, visit my page on TripAdvisor.
"We are really lucky to have had Elyse as our guide. She is fun and gives us interesting tidbits of history about Toulouse. She leads all kinds of visits in Toulouse and they are always interesting and have great names too!"

— Todd Newman
"Elyse is warm, energetic and a fountain of information on history, art, and the architecture of Toulouse. She went beyond what we expected of our walking tour yesterday…."

— Meredith b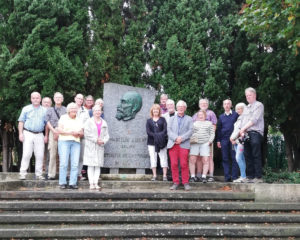 "We really appreciated our visit with Elyse.She was able to tell remarkable stories about the places we visited in our long tour and it really helped us understand Toulouse"

— Bdavey
"Wonderful walking tour with Elyse!

We were lucky, Elyse knows the the city, its history, and the sites so well. With great enthousiasm we can recommend a walk with Elyse!"

— ZB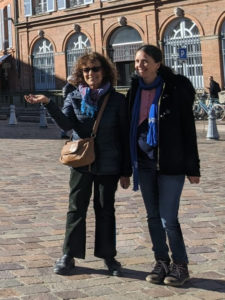 "We did the Classic Monuments Tour of Toulouse with Elyse and we loved it! She really brings the city to life, covering everything about its history. We look forward to another tour with Elyse next year!"

— Anne C
"What a wonderful morning we had doing the Promenade on the Left Bank with Elyse. The light was golden and with her passion for art and history we had the best of times…………"

— Cait M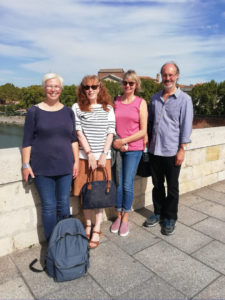 "Today with a day in paradise in southwest France. I have been to Mirepoix on many occasions but today with the best! Thanks for a wonderful tour"

— Diane
"We were a large family group, mostly from the States, and everyone really appreciated the tour with Elyse. She has a way of weaving together history, architecture, human nature and society. It helped us understand how Toulouse became the city it is. I strongly recommend a tour with Elyse!"

— Beth F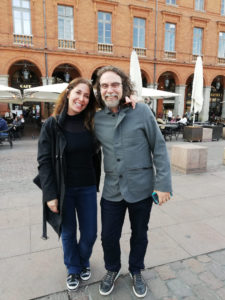 "Your tours made our stay in Toulouse interesting and informative. We've gotten to know the city so much better as a result. Many thanks and see you soon"

— T and B
" We had a wonderful day the three of us, my cousin, me and Elyse. We went to so many magnificent places and gave life to the history of the city. We loved our time with her"

— Jenny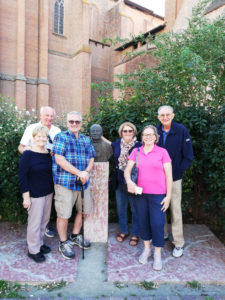 "What a fabulous Resistance tour we had with Elyse!

— JackD