ToulouseGuidedWalks has most of its visits in the city of Toulouse. It is however possible to ask for a visit to some out-of-town sites.
CARCASSONNE
(approx 50 minutes by train or car from Toulouse)
This gem of a medieval fortified city (not château! – The château is inside the old city) A WORLD UNESCO HERITAGE SITE and one of the most famous and visited places in France outside of Paris, Carcassonne is the largest walled city still standing in Western Europe. Rich in history its stone ramparts, church and château are testimony to its importance in the MIddle Ages. Walk the ramparts with me and learn how to "read" the stones. Visit the ancient cathedral of St Nazaire and discover the most magnificent stained glass windows of the southwest of France. Learn the amazing story of the young Viscount of Carcassonne and the destiny of his family and the château. And enjoy the 'feel" of the medieval city in all its splendour. (and enjoy a lunch in one of the many restaurants on Marcou square)! This is a half day visit from Toulouse.
ALBI
(approx 50 minutes by train or car from Toulouse)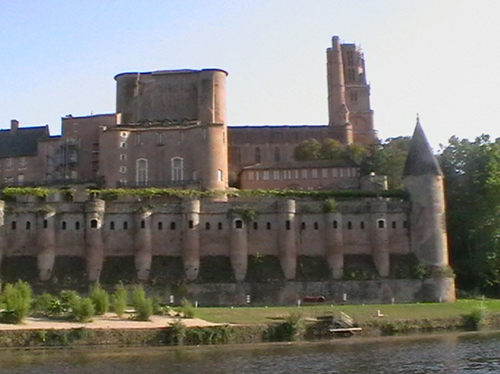 The entire ancient center of this small city is classed as a WORLD UNESCO HERITAGE SITE. The magnificent orange bricks of Albi stand out, as it perches above the Tarn River. It is home to one of the most amazing cathedrals in France. St Cecile, the largest church ever built entirely of brick. It is famous for the beauty of its interior, from the majestic ceiling to the strange mural of the Last Judgment, from the carvings on the choir walls to the lifelike polychrome statues, everything inside this enormous church is remarkable. Next to the cathedral, is the magnificent Bishop's Palace. It is home to the Toulouse-Lautrec Museum, and it has the largest collection of this artists' works in the world. Albi has many medieval and Renaissance houses and is a remarkably well-preserved old city center. Its lovely bricks and half timbered homes and cobblestone alleys add enormously to its charm. Everything in Albi is rich in history and beauty. This is a half day visit from Toulouse.
---
There are many lovely villages, churches, and historical sites in the area surrounding Toulouse. If there is a place that interests you (as perhaps heard about in one of the JoinUsinFrance podcast episodes) just contact Elyse to discuss details.